Anyone who's worked with the electronics of a boat or any underwater (or near water) projects knows that marine electrical wire is absolutely necessary to create a functioning circuit that is safe to use. The facts of the matter is, and let's not forget this one, water conducts electricity. Yep! Believe it or not, but it does. In fact, it does it so well, that any wires exposed to electricity can be incredibly dangerous, quite deadly most of the time. That's why it's important to get the highest quality water-resistant wires; ones that can not only resist water, but can also get the job done. Well, the loving folks at EWCSWire know a thing or two about wires and cables, and we'd like to make sure that you purchase the perfect kind for whatever project you're using it for.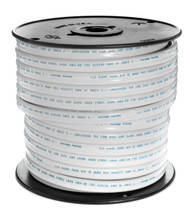 So, we've addressed that marine electrical wire is absolutely necessary for any projects that will involve water, or really anything that could be exposed to water at all. That's an easy one, but what kind of wires should you choose? There are clearly plenty of options on EWCSWire, and that's because we believe in giving our customers as many options as possible. That's because we care, and we know that you need to get specific with your choices. We also offer custom cut wires that can suit your needs, because we know that every customer deserves to pick out the product that's exactly right for them.
All of our marine wires and accessories are AWG UL Approved, and we stand by their quality. When you need a job done right, EWCSWire has the materials to ensure just that. If you need Marine Primary wire, we have it, and it's going to be the best Marine Primary wire that you'll find for your job. If you're looking for Marine Grade tinned, we've got that too. The fact of the matter is that we've got every kind of style and wire that you could need for your project, and we take pride in that fact. That's why EWCSWire has been dishing out quality wires and cables since 1994. That's over twenty years of happy customers and jobs well done. We intend to continue to provide this excellent service and make sure that technicians everywhere have it a little bit easier!
So, when you check out our marine wires and accessories, be sure to navigate the rest of our site for all of your wire and cable needs. Need some quality heat shrink tubing? We've got it. Feeling like your fire alarm cables need replacing? Well, once you buy ours, you won't need a replacement for a very long time. That's because all of our products are made from quality materials that do exactly what they're supposed to do, and more. It's a tough job working as an electrician, and it's an even tougher one if you're working with materials that are faulty. Come to EWCSWire.com, and you'll see that faulty wires are officially a thing of the past. Contact us today, and let's see what we can do for you!